5th Workshop on Field-Flow Fractionation – Mass Spectrometry (FFF-MS)
28-29 September 2017, Vienna, Austria
---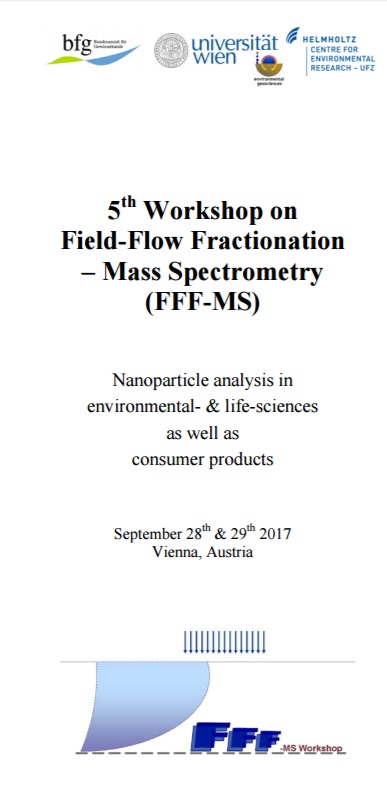 Nanoparticle analysis in environmental- & life sciences as well as consumer products
Organised by University of Vienna, Austria, Helmholtz-Centre for Environmental Research -  UFZ Leipzig, Germany and The German Federal Institute of Hydrology (BfG), Germany
The 5th Workshop on Field Flow Fractionation and Mass Spectrometric techniques (FFF-MS) focused on the analysis of nanoparticle in environmental- & life-sciences as well as consumer products. The programme included a seminar with overview lectures by experts, followed by a lab hands-on session with interactive elements.
The programme was specially designed for PhD students and scientist working the field of colloid and nanomaterial analysis. The main advantage of this series of workshops is to maintain a platform which enables networking between experienced FFF-MS users, younger scientists and manufacturers. Target-oriented discussions help to promote the FFF-MS techniques regarding instrumentation as well as applications and help researchers in the field of nanomaterials to find the best solutions to investigate their materials. In addition, an exchange of experience in nanomaterial sample preparation is of key importance and beneficial to the whole community.
The FFF-MS workshop was organised as part of the "WG4" of the "NORMAN network - engineered nanomaterials" - Task Group II "The Analytical Toolbox".
---